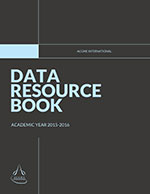 The ACGME-I is pleased to once again provide a compilation of data collected during the academic year.
The Data Resource Book was developed to provide readers with an easy-to-use collection of current and historical data related to the accreditation process. The book is intended to be a concise reference for policymakers, residency program directors, institutional officials and others to identify and clarify issues affecting the accreditation of residency programs.
The book covers various topics in graduate medical education including resident demographics, summaries of program accreditation status, availability of participating institutions, etc.
Note: All electronic editions of the Data Resource Book are read-only and spreadsheets are not provided.