International Award: Physician Leader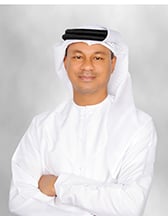 Dr. Hatem Faraj Al Ameri is the manager of the Department of Healthcare Workforce Monitoring at the Department of Health with more than 25 years of experience in clinical and academic medicine, as well as health care regulation and policies. Through his current position at the Department of Health, he plays an integral role in setting the Abu Dhabi medical education agenda that aims to make Abu Dhabi the best practice model in academic medicine and a destination for learners, educators, and medical education researchers.
He founded the program Tanseeq in 2010, the first national application and matching system for post-graduate medical education (PGME) that attracts more than 1,000 applicants per year. Under his management, Abu Dhabi became the first regional and the second global to receive ACGME-I accreditation for its residency programs. As a board member in several national medical education and workforce planning committees, Dr. Alameri led the transformation of health professional licensing, health care practice legislation, and established the medical education funding schemes.
Dr. Al Ameri completed his pulmonary medicine fellowship and internal medicine residency from McGill University in Canada in 2002 and 2000, respectively. He has received several academic awards including Best Chief Resident in 2000, Teacher of the Year from King Saud University, Riyadh, Saudi Arabia in 2007, and The Gold Stevie Award Most Valuable Service During COVID-19 in 2021. He has authored multiple publications in the field of both clinical medicines and medical education.
International Award: Physician Educator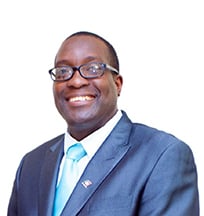 Dr. Sterman Toussaint held the position of designated institutional official (DIO) and professor of surgery at Zanmi Lasante in Haiti until 2021. He joined Zanmi Lasante in 2021 as a surgeon, and his clinical skills, commitment, and leadership capacity guided his career through positions including clinical surgery coordinator and his current position of DIO, all while teaching surgery at the General Hospital, the largest public hospital in and at the Mirebalais University Hospital. Since joining the health care team in 2010, Dr. Toussaint has shown great intelligence, openness, and the admirable ability to adapt to serving the unique environment of remote regions of Haiti. His commitment to medical education as well as his teaching skills have made Zanmi Lasante's education program the most prestigious in Haiti. Additionally, he has brought about an enormous contribution to build the education and research programs at the Mirebalais Teaching Hospital and provided valuable support to the residency programs. Dr. Toussaint, who is regarded as one of the best surgeons in Haiti, is also beloved by all—he is beloved as an attending, a teacher, and a mentor. He is a dynamic, lively, patient, and disciplined individual who always wants the best quality of education and training for the residents at the hospital. This, when paired with his success in medical education, makes Dr. Sterman Toussaint one of the most respected medical educators in all of Haiti.