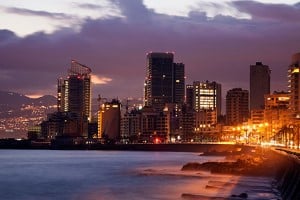 Attaining a much sought-after ACGME-I accreditation for the Graduate Medical Education Program at the American University of Beirut (AUB) required much patience and literally involved traveling half way across the world.
However, the yeoman efforts by the school's staff and the flexibility afforded by the ACGME-I helped the institution achieve its goal when accreditation was issued in 2014.
"For nearly 150 years, the AUB School of Medicine has been known as the leading center for medical education in the Middle East, and its Graduate Medical Education long dedicated to training medical graduates in high-quality and cost-effective patient care," said Salah Zeineldine, MD, FACP, assistant dean for Graduate Medical Education.
"ACGME-I accreditation significantly exhibits how we meet this mission and adhere to the highest of standards to educate and help residents and interns attain optimum performance in their chosen fields," Dr. Zeineldine added.
The journey to accreditation began a decade ago, and Dr. Zeineldine himself was one of the catalysts. After first attending AUB, he completed in 2004 his education in pulmonary and critical care at Boston's St. Elizabeth's Medical Center, which was ACGME-accredited.
Dr. Zeineldine felt so strongly about the value of ACGME accreditation in advancing the quality of resident physicians' education that he assisted AUB to apply for this prestigious recognition upon his return to Beirut in 2005.Yet, because AUB is not located in a U.S. territory and ACGME had not yet established an international arm, the Graduate Medical Education Program could not be accredited.
Dr. Zeineldine and AUB leadership would not give up the quest. He maintained contact with ACGME and upon learning it planned to launch an international division, closely monitored its establishment. When ACGME-I was formally established, AUB immediately began the application process.
Then, AUB faced another challenge. Due to security concerns, ACGME-I was not able to conduct the important site visit in Beirut, thereby jeopardizing the accreditation. The AUB team was undeterred. It creatively proposed a two-step process to provide the needed personal interaction.
First, a teleconference took place that featured AUB executives and faculty interfacing with ACGME-I to review AUB's application, procedures and protocols. Then, the AUB team traveled to ACGME-I headquarters in Chicago to present its case face-to-face.
Soon thereafter, AUB Faculty of Medicine and Dr. Zeineldine's dream was realized – accreditation was issued in July 2014.
"The benefits of ACGME-I accreditation are multi-faceted," said Dr. Zeineldine. "For faculty, it demands attention to detail and provides more critical structure to the education process. Accreditation underscores to students how AUB is a desired institution where they can receive the best education and training."
"In addition, accreditation plays an important role in the retention of our residents, who greatly recognize its value. They look forward to the accreditation of specific residency programs."
In fact, that process already is underway. Five specialty programs now are applying for accreditation, including emergency medicine, family medicine, internal medicine, obstetrics and gynecology, and surgery.