An ACGME International (ACGME-I) delegation, led by President and Chief Executive Officer James A. Arrighi, MD, went to Karachi, Pakistan on a visit to strengthen ACGME-I's relationship with the country's graduate medical education (GME) community and Aga Khan University (AKU) – the first ACGME-I-accredited Sponsoring Institution in Pakistan.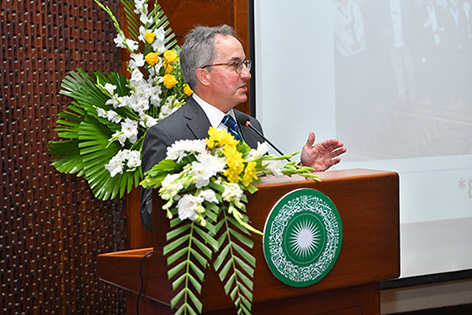 ACGME-I took part in AKU's Annual Postgraduate Medical Education Conference 2023, with the theme, "Competency Assessment in Postgraduate Training: Global and Regional Perspective." Invited as the guest of honor, Dr. Arrighi delivered the keynote address, entitled, "Do Rigorous Assessments Ensure Mastery in Practice?"
A major portion of the visit was focused on faculty development. Led by Accreditation Council for Graduate Medical Education (ACGME) Vice President, Milestones Development Laura Edgar, EdD, CAE, a workshop was held with the team from AKU as part of the ongoing series of in-person workshops to assist ACGME-I-accredited Sponsoring Institutions and programs in preparing for the full implementation of Milestones 2.0 in January 2024. The workshop, previously held with Sponsoring Institutions in Haiti, Guatemala, and Jordan, offered the AKU team an opportunity to gain detailed knowledge on how to apply and use the new Milestones, including program-specific considerations.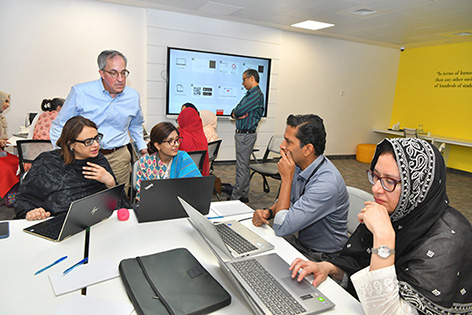 The ACGME-I delegation was also invited to meet with the leadership of the College of Physicians and Surgeons Pakistan (CPSP), an organization that, like ACGME-I, is focused on advancing the quality of GME. The delegation toured the CPSP headquarters in Karachi and met with its leadership to identify areas of potential collaboration.
The visit concluded with a reception at the residence of the Dean of AKU Medical College, Adil Haider, MD, MPH, FACS, and his wife Saima Haider, RPh, to celebrate international partnerships in GME. Attendees included senior leadership from AKU, AKU Hospital, and CPSP, as well as US Consul General Conrad Tribble. Dr. Arrighi was especially heartened by comments from third-year resident Safna Virji, MBBS, who described how accreditation has greatly benefited GME education.
During the reception, Dr. Arrighi was able to announce that two members of the AKU team were selected as recipients of the 2024 ACGME International Awards: Muhammad Rizwan Khan, MBBS, FCPS, FRCS, FACS, MHPE, the associate dean for postgraduate medical education, will receive the Physician Leader Award; Novera Ghayoor Chughtai, MBBS, FCPS, assistant professor and program director for obstetrics and gynecology, will receive the Physician Educator Award. Awardees will be honored, along with the winners of the ACGME Awards, at the ACGME Annual Educational Conference in March 2024 in Orlando, Florda, US.